Last week Wed-Sunday was my season for 2008 spring turkey. Day 1 - Wednesday, the birds were up and active. I saw a ton of hens, heard a bunch of gobblers, but didn't want to mess the area up, since this is the first year that my dad had purchased a tag and was coming up to hunt, not just to sit and watch me. So basically, what I'm saying, is if I couldn't call one into me, I wasn't going to head out looking for one of the ones I could hear calling. I had Gobbling all the way up till 11:45am when I left the woods for lunch. I headed back out to a different woods…saw one gobbler running across the road as I pulled into the parking lot. The rest of the day I saw only hens. All in all though it was a great day to be in the woods. Day 2 – I sat in the second woods as I left my blind up all night. I never saw a bird, and only heard 2 gobbles all morning. Decided, this was a bad spot. That afternoon, I left the blind at the cabin and went out to do a set up close to where the birds were roosted the day before to see if I could get a gobbler coming in to go to bed since we can hunt till about dark now! It was a good move, but I wasn't set up close enough. 13 birds came in to roost that night, 11 hens, one gobbler and a jake that were fun to watch. That gobbler sure chased him around!!! Day 3 – WOW I slept in!!!!! 4:50 the alarm goes off and I'm like OHHHHH CRAP. I can shoot in 15 minutes!!!! I tossed on clothes, left the blind and sped to my spot… I got in thanks to the cloud cover… and just sat against a pine. It was right where I roosted the birds the night before. They all flew down. I got some of the hens to come right into my decoy…then slowly walk off… I have no clue where the gobbler went as I never saw him come down out of the tree. There was action again early that morning all around, but it was far off. I decided at just before 7, I'd put on a stalk. I moved about 600-700 yards closer to the nearest gobble, and set up. Sure enough, that move paid off!!!! I had 4 gobblers come in, raised my gun and KAPOWWWWWWWW, at 7:28a.m. had this bad boy down on the ground. (see pics) He was about 20 pounds, had 7/8 inch spurs, and a 10 inch beard. He's my second bird ever…and I am quite happy!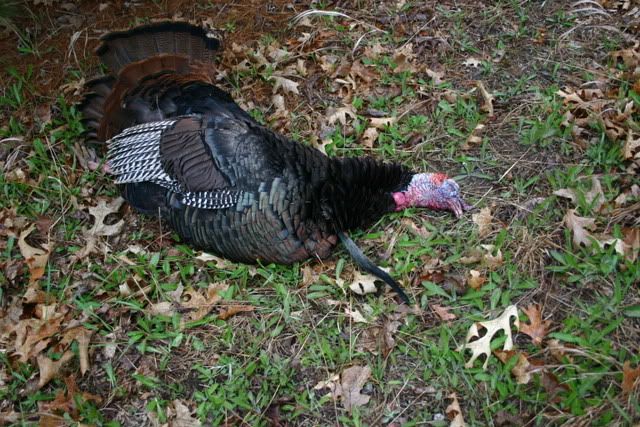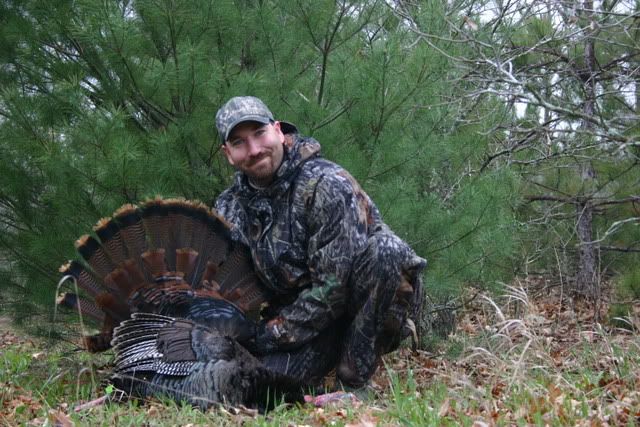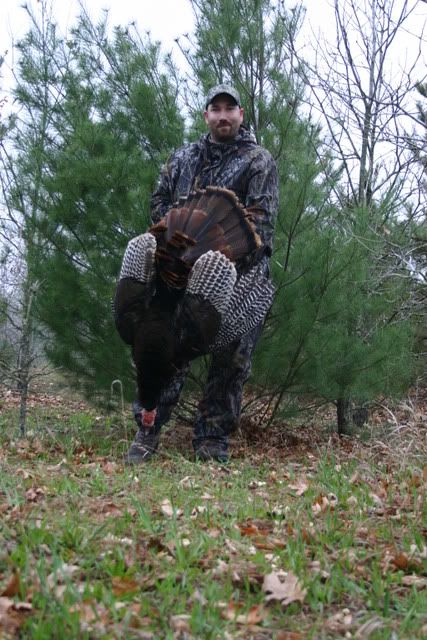 My dad made it up that afternoon, and we got absolutely SOAKED on our way to our blind that afternoon. We sat the next morning in the rain and heard only 1 gobble…that afternoon saw 3 hens over 230 yards off on private property. All in all Saturday was a washout day. Sunday, the sun was up early and the action was good. We could hear 7 different gobblers sounding off. Again the hens all flew down and walked around us. We couldn't get any gobblers to come in, so again we went on the stalk. We ended up seeing the one bird gobble and strut, but when we moved around to get in front of where he was headed….we never saw him again.
And here is one of the pictures that I took that I just couldn't help but add.