Here are some photos to give you guys an idea on what to look for in a quality mount. I will break it down into several sections using photos as reference.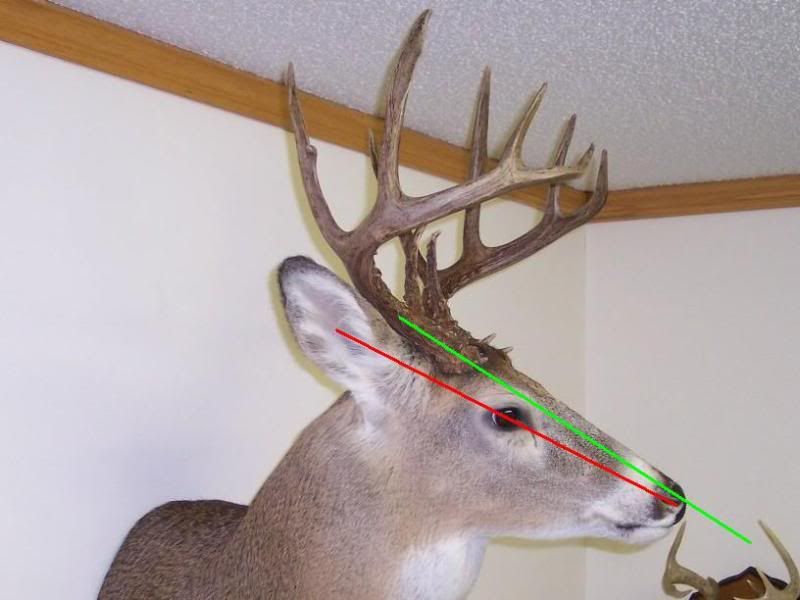 THE ANTLERS......
Take a look at this photo....the antlers are mounted correctly. The general rule of thumb is...the start of the mainbeams are parallel to the top of the nose. Take a look at the green line...it runs parallel to the top of the face and lines up with the first 3 or 4 inches of the mainbeam on this mount.
I've been doing taxidermy since 2003 and I've only seen a small handful of deer where this rule didn't apply. In those cases, the rack tilted forward on the deer a bit. I normally find it with non-typical racks.
Now look at the red line. If you run a straight line from the center of the nostril through the center of the eye, there should be only a 1/8" to 1/4" gap between the "red line" and the base of the antler. Again, this doesn't always hold true...but is dead on with almost every deer I mount.
THE EARS......
I will touch on the ears a bit since this photo is a good example. On this mount, a few things stand out to me that are a little off. First of all, the the ear butt is a little too big. The ear butt should be no wider than the widest part of the ear. Also, the ear is pushed up a little too close the the base of the antler. You should only have about a small finger's width between the ear and the antler.
The most common mistake is the ears way too low.....about a three finger gap making it look lime dumbo coming in for a landing.
Look at the overall shape of these ears....very nice, crisp edges. Very important!!! If the taxidermist doesn't take his time to "turn" the ears all of the way out to the edges....they will curl and look wavy when the dry.
One more feature that is needed for correct anatomy is a "groove" in the center of the ear butt. In this picture you can see a change in hair pattern and color (right in the center of the butt). There is a muscle separation there and the taxidermist should recreate it when forming the ears.
I'll talk about paint later..........to be continued