I appreciate the effort 5 shot and Shtr put into their separate equipment tests. Though their test procedures are nearly identical on their Magnus Snuffer SS reviews 5 shot liked it a lot, Shtr said it flew poorly. To have personal confidence in your choice sometimes ya just gotta do it yourself..... and I usually do.
I have shot the Delta Snuffer about 10 years ago ( poorly made until Magnus took them over) and after getting the insert mounted true it flew great. I knew I wanted to look at the Snuffer SS as soon as I saw the first picture- I've favored 3 blades for much of my hunting time.
I got two 3 packs of the 125 gr 3 blade Snuffer SS from Edersbow. I pulled one out of the package and proceeded to create a bald spot on my arm testing the sharpness. Pretty good though I will touch them up to Eastman standards. ( that's me not the NAP folks
)
I pulled the other two out and checked the edge by drawing each blade 'gently' across my thumb nail. If it's sharp it will drag if not it will slide or skip. Old bowhunters who enjoyed sharpening their hunting heads could be spotted by bald spots and grooved nails.
It felt like coming home and they all seemed well sharpened which is tough for a level ground 3 blade due to the 60 degree angle.
Time to pull out the U.S. Balance digital grain scale. They all weighed in at 124 gr, but my scale is low just a bit and I can't get the zero to hold- so I give them credit for being 125 as advertised since heads that I know are actually 125 show up as 124 on my scale.
Looking at he construction I was impressed with the nice welding job fastening the 3 blades to the center ferrule. They checked out as well made and spun true. I do not plan to do any destruction tests- I'll bow to the plywood, barrel and tire masters mentioned above results.
I did notice that the threads seeming hard to screw in to my arrow adapters. I thought the arrow insert may have galled due to shooting with a loose tip. But checking several head/ arrow combinations they all seemed hard to screw in. I was able to get them seated but may get my tap/ die out to confirm my initial thoughts that the Stainless Steel threads are a little larger than the Stingers and other heads.
Now for the waiting. I broke my finger at softball practice several weeks ago and it 'talked to me' when I even thought about shooting. So I waited trying to follow the doctor's orders.
I'll post a comparison of the Stinger 4 blade I've been shooting and the Snuffer SS- both 125 gr.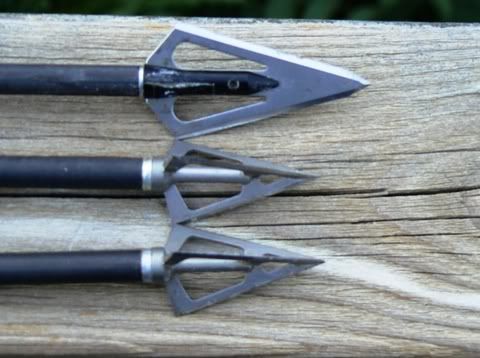 The Stinger is a great flying head with a sturdy main blade. The Snuffer appears quite a bit smaller, but if you consider 3 versus 2 edges on the 'main blade' the cutting edge is similar. I favor a broadhead that 'slices' rather than punches like some of the newer Wac Em style. On the other hand, I've favored 3 blade heads for many years. So
Design Comparison
is a push.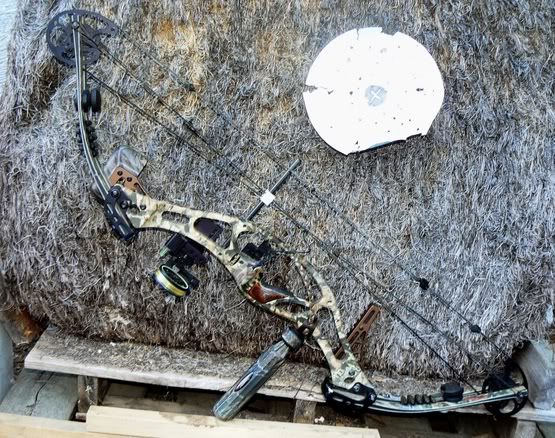 My 2002 Hoyt Ultratec with CC+ cams would get the arrow flinger honors. My target range goes out to 60 measured yards and I would be shooting from 30 yards to spread the impact out a bit. I've found out the hard way that group testing broadheads quickly gets expensive. '02 Hoyt Ultratec CC+, presently at 64#, 29,5 draw. GT XT Pro 5575, 410 gr about 265 - 270 FPS. I haven't chronoed in a while but that's about what this set up puts out.
I may use the 7595s again soon but they need new vanes. The 7595s don't fly much slower and I like the added weight.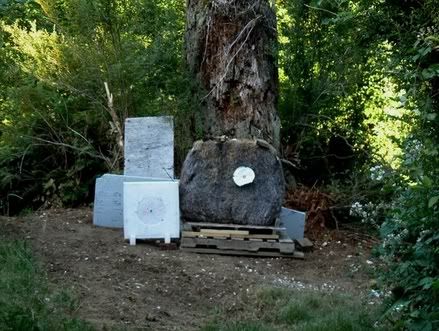 The target was up and operational before we started construction of our house ( actually we had to wait on permits and final design so I may as well have something to do
) This synthetic excelsior bale has been catching arrows for 13+ years. It's a little soft in spots so I have a sheet of 2" foam insulation backing it up. The stump and plywood are to catch the grandkids occasional 'oops shots'.
You don't want to shoot BHs into excelsior so my Stanley Hips ethafoam target would be used. Its 6" thick but the replacable center is 12" and though it's been used for 4 years it still stops them except when you find the crack around the center core or a heavily shot up spot.