Somebody cover JB's eyes
To make room to turn the trailers into the planned storage building I need to remove an 'island' in the middle of my driveway. There is a Holly bush and a 18' fir that i planted when we moved here but- the big challenge is 68' fir with a 19" diameter. Espcially since it was 40 feet from the house.
I've dropped a lot of trees (mostly for firewood) and most go where I want but two weeks ago a gust of wind and poor wedge work on my part resulted in a alder falling off line and cracking the front of my Stihl saw when it was pinched in place. So as prudent I used a 80' 2" rope pulled through a pulley by my little tractor to ensure the fall was not only away from the house but between my ornamental crab apple and spruce trees. to shorten the arc and keep it out of my orchard fence I cut it off at 5'.
Heres the before and after pics: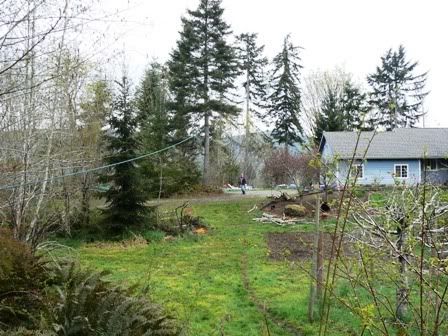 Desired fall liine is along the dog path worn in the grass. ( it goes to the archery range )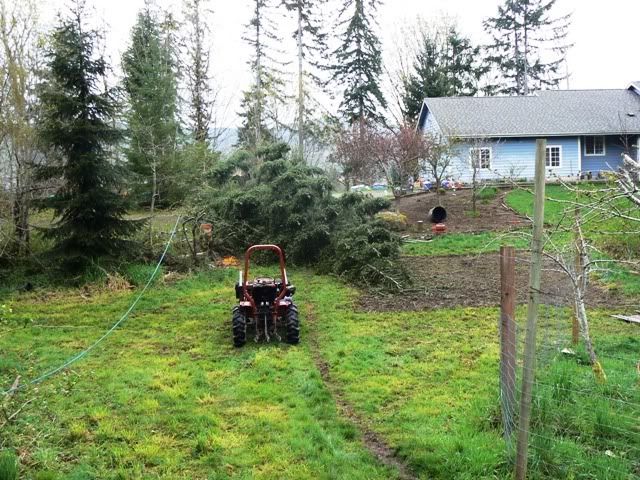 I had to cut from both sides as the 18" bar wasn't long enough to cut cleanly through. As I was cutting from the other side I knocked on of my wedges loose just as a wind gust picked up- the missing wedge was on the house side. YIkes,
flash back time. I hollered at son Jeff to Go, Go, Pull!!! and he got tension applied to keep it nearly dead center. Nothing was damaged.
For you timber fallers out there- the thick 'jagger section' was left on purpose to control the side movement.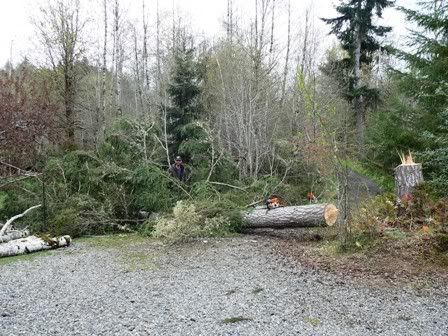 I've worked with lots of true timber fallers and flew lots of guys who could have done this blindfolded. I'm not in their league by any stretch and am just glad it's down safely.